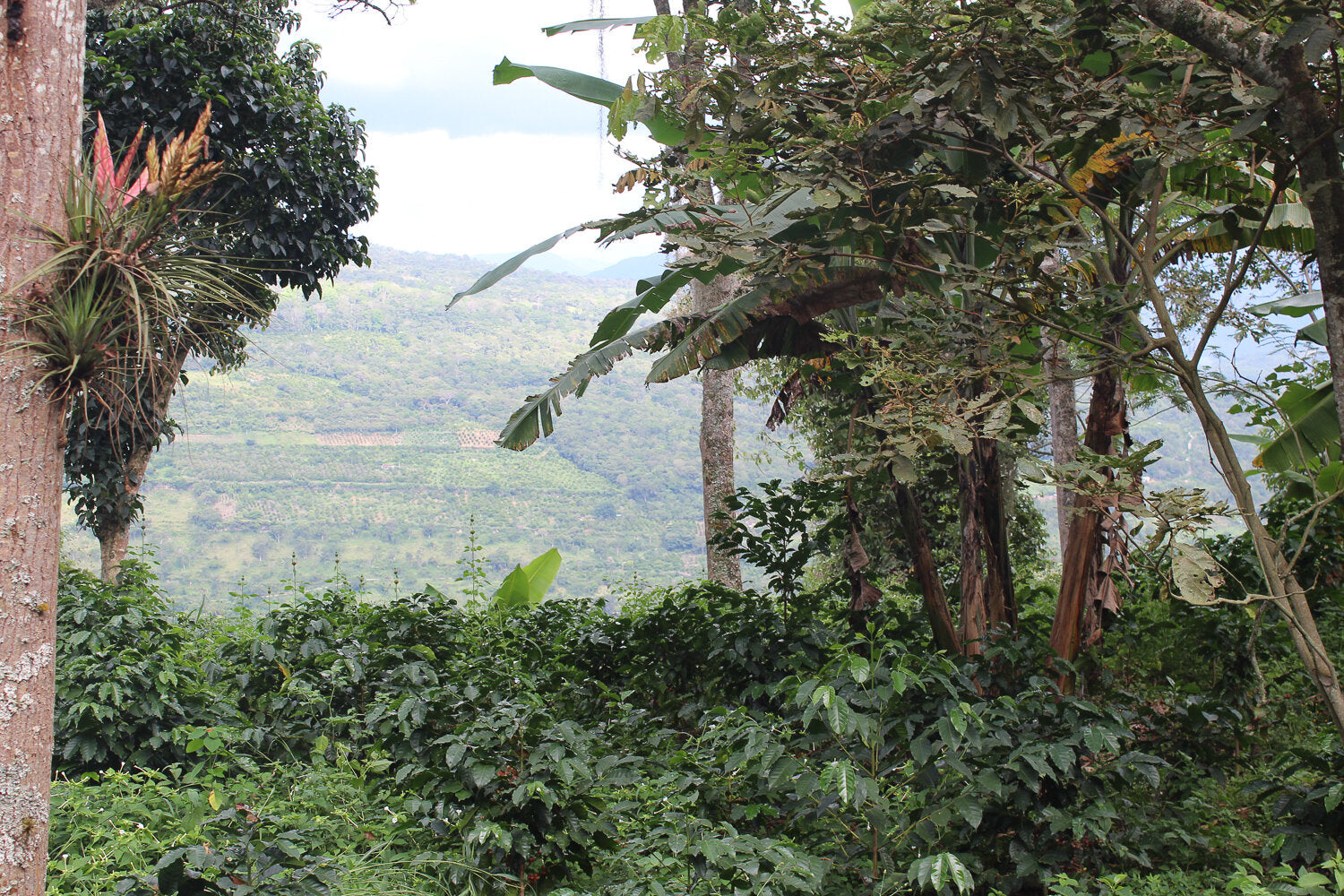 In February 2019, Missing Bean's founder, Ori, escaped the UK winter to visit the Salazar family at their coffee farm El Calapo, in the lush foothills of the Andes. A year on we look back to that visit.
Ori was met in Bogota by Santiago Salazar Junior, and together they took the five hour bus journey to San Gil, a town nearby to the farm, which due to its altitude and an average temperature of 24 degrees Celsius, is the Colombian capital for canoeing, caving, mountain climbing, paragliding and trekking all year round. These conditions, paired with a great deal of laborious love and care, is what makes El Calapo coffee so special.
From afar, you can hardly see coffee plants — only dense forest on the slopes of the Andes — but once you reach El Calapo, you are immediately immersed, the air ringing with the songs of birds living in the tall trees that give shade to the coffee plants. Tree shade creates a microclimate underneath, which is particularly good for the coffee maturation as it protects the coffee plants from abrupt changes in weather. In fact, the farm owes its name to the Calapo, the tree that is most prominent on the farm.
Keeping the farm organic is important to the Salazar family, and shade-grown coffee has the added advantage of keeping the wildlife around it happy. The 50 species of trees on the farm make up a density well above the standard for bird-friendly certification, which is 12 trees per 25 square metres. 'We have between 18 and 25 trees for the same area,' says Don Santiago, 'which is a paradise for birds and wildlife'.
As well as the many varieties of coffee plants — the standard Castillo and Colombia and the more exotic varieties of Geisha, Tabi, Santa Rita and most recently Bourbon Rosado— the family take advantage of the excellent growing conditions to produce a huge variety of fruit, including avocados, pineapples and tomatoes. Ori remembers that the amazing varieties of oranges and clementines, were some of the best he'd ever had.
A commitment to being organic and shade grown though, does not come without some downsides as Ori learned during long chats over beautifully home cooked food, discussing coffee, business, local politics and life. For example shade grown means that the plants only have one crop a year, rather than two in conventional sun-grown plantations. However, ultimately they believe that they have made the right choices for their farm's, and the world's future.
The road to success has been by no means a straight forward one for Don Santiago, beginning from the moment when he first took over the farm after his father's untimely death at just 46 years old. When he was growing up, he was very close to his father, always at his side and learning everything he knew about growing coffee. Don Santiago was a good listener, and still uses the skills he learned from his father to this day. 'That saved me, and it saved El Calapo', he said.
When his father died, 13-year-old Don Santiago was the only one in the family who had all of the intricate knowledge to know what to do to maintain the farm. As one of seven children, he eventually started buying portions of the farm from his brothers and sisters through hard work, and bank loans, until eventually he owned the whole farm. Ten years ago, he bought a second farm, Santa Rita, where he was able to apply all the expertise he had gained.
They now have 340,000 coffee plants of different varieties, and produce roughly 76,000 kg of coffee per year with the potential of increasing to 95,000 kg — a medium size farm for the Colombian coffee average.
Their success is due in part to the way they look after their staff, who are more like one big happy family — something Ori was able to experience first hand while spending time with everyone, and even on a crazy night out with Santi Junior on the very last night, being schooled by the locals on how to dance, well into the early hours of the night.
The quality of the beans — consistently achieving 85 (Q Grade) SCAA year by year with an aim to raise that standard to 90, something they've achieved in micro lots — is owed to Don Santiago's meticulous picking process. Unlike most farms whose crops are completely bare after a picking day, El Calapo's 50-60 pickers — who come to the farm during the crop season from August to January — only pick the ripe red coffee fruit and leave the yellow and orange cherries on the plant to ripen.
Don Santiago personally checks everything that has been collected by the pickers every day. In the first hour of picking, at 7am, he inspects each basket collected, sampling them to make sure only red coffee fruits are picked, and setting the standard for the day. After the first hour he has a trustworthy team of coordinators who check what is brought in later.
When our staff learned about El Calapo's backstory, and Don Santiago's dedication to sustainability and taste, we fell even more in love with its delicious lychee and earl grey flavours; and we hope you will too.
If you're interested in trying it out, we serve it across our Oxford cafés and you can buy it direct from our online shop.